AccuFAST Automation Machine

AccuFAST Automation Machine
The AccuFAST is an automated nucleic acid extraction machine
that uses the AccuFASTprep kits (e.g. Saliva, Blood, Buccal, Plasma, Stool, Hair, Plant, etc.) to extract high-purity and high-yield DNA/RNA.
The kit contains beads that have high DNA/RNA binding properties and reagents that are essential for nucleic acid extraction to increase the user's convenience.
Additionally, the user-friendly system comes built-in with optimized protocols for various samples to facilitate reproducible nucleic acid extraction.
AccuFAST
Automation Machine
Cat : ACN 14.48 / ACN 14.96
Automated DNA/RNA Preparation equipment
DNA/RNA extraction possible with various sample types and large sample quantities
Easy operation for maximum user convenience
Highly concentrated DNA extracted within 1 hour
Reduced lysis time, highly concentrated and high-purity DNA recovery possible from FFPE and plasma samples
Automated extraction reduces human error and contamination with mounted UV function
| | | | |
| --- | --- | --- | --- |
| Blood, Buccal (for 32 samples) | | | |
| | | | Pre-treatment Not Included |
| | | | |
| Stool, Hair, Plant (for 32 smaples) | | | |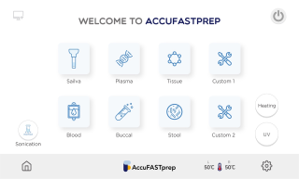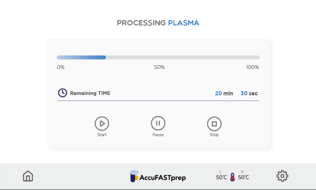 ※ Touch-Screen Interface and Software
| | |
| --- | --- |
| | |
| | |
| | 430 mm(W) * 422 mm(H) * 489 mm(D) |
| | |
| | 220 V, 50 / 60 Hz (EMI Filter) |
| | |
| | Relative Humidity 20 ~ 80 % (Non-condensing) |
| | |
| | 6 Main Categories (User-defined) |
| | |