The AccuDBS Collection Kit is used for obtaining DNA from dried blood samples.
 It is designed to secure DNA of the highest purity and concentration and enables stable sample preservation for both storage and transportation. 
This kit is also applicable for NGS that requires highly concentrated DNA.
For the DBS(Dry Blood Spot) collection & stabilization of human blood DNA
Preservation Buffer volume
Specimen stability at room temperature
Rectangle – 40 ㎕,  Square – 120 ㎕
Convenient sample Collection, Storage, and Transportation
User-friendly instructions
Cost-effective method compared to other similar kits
High Concentration & Purity
High-quality DNA Preservation
Amino acids, Acylcarnitines, Carotenoids(Antioxidants), DNA(PCR, NGS), Fatty acids, Specific antibodies, Vitamins, etc.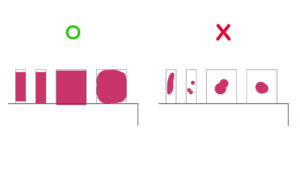 Do not dry with artificial sources such as heater/fan/air conditioning.
Do not touch the sampling regions to avoid contamination.
Do not fold the blood spot regions.
If possible, avoid storage at temperatures above 50°C.